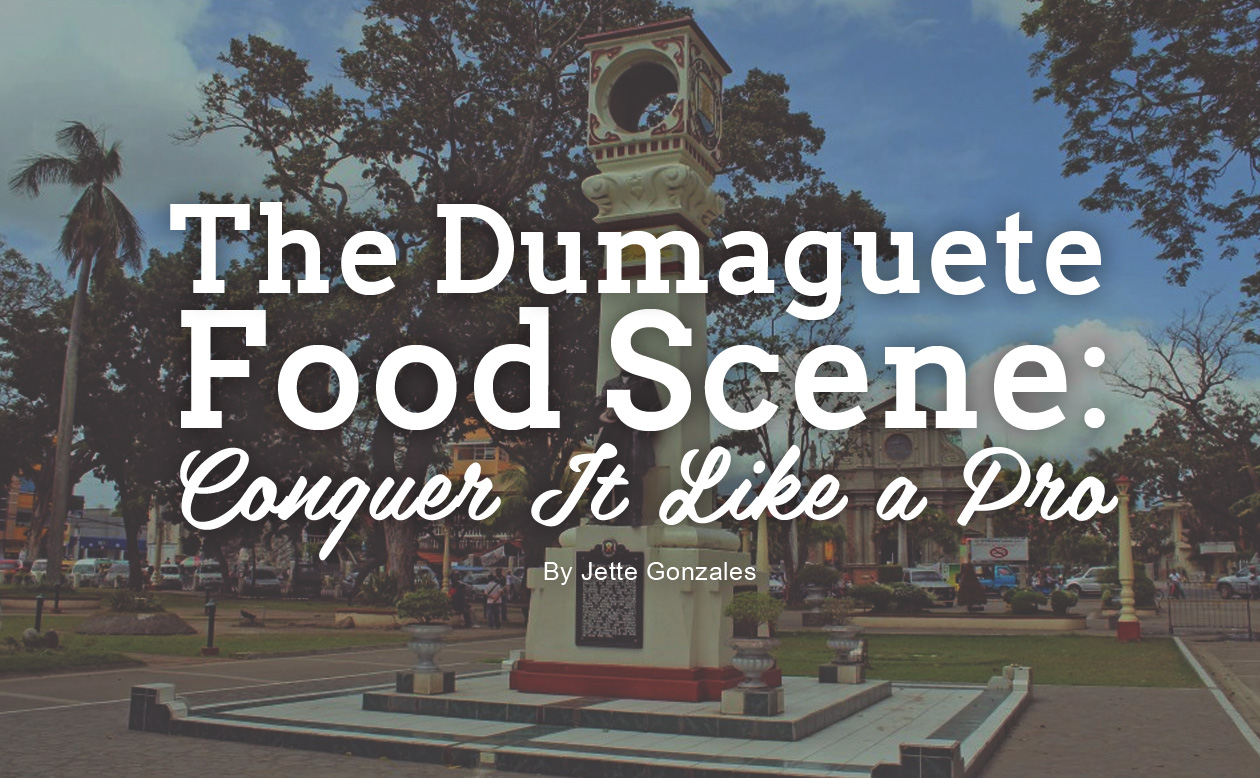 hen I first transferred to Dumaguete, some friends, by way of welcoming me to the City of Gentle People, introduced me to one of the best things and must-dos here (i.e. food and eating)!
Really, there isn't a food joint here you won't appreciate. Like I once told a guest, Dumaguete noms are only good, great, and whoa! Lavet! And after almost six years of living in this small, quiet, coastal town, I have made the rounds of awesome food stops that are sure to make uber delicious memories for any traveler.
8. Hayahay Treehouse Bar and Viewdeck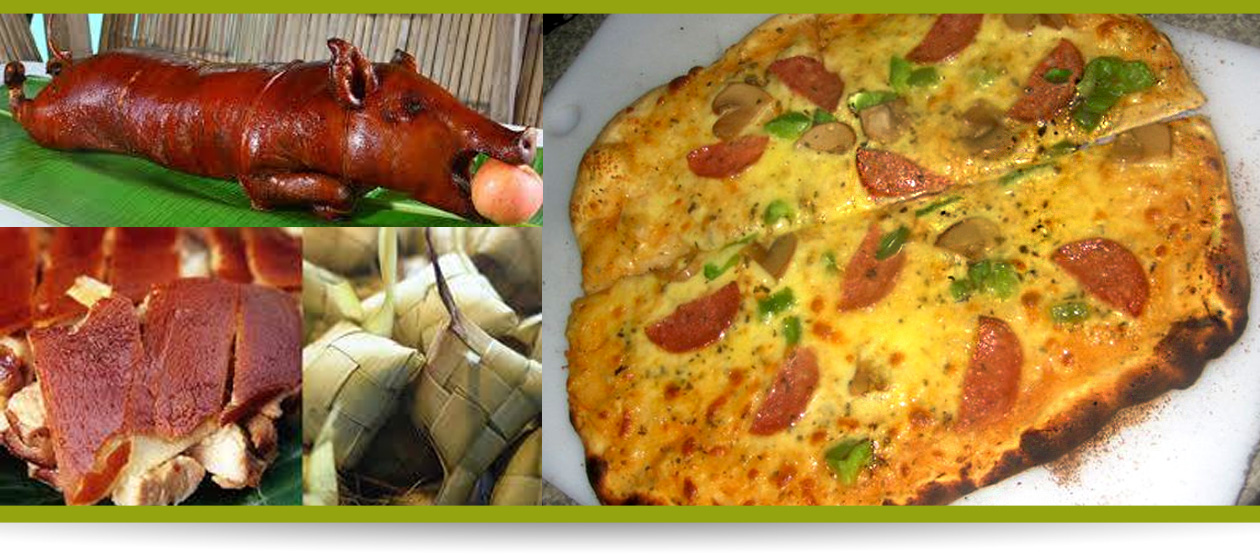 Flores Avenue, Escano Beach, Piapi, Dumaguete City
It's a bit far from downtown but it's hard to resist the ambience of dining by the sea. Fresh, tasty seafood cooked to perfection, served hot off the flame. Try the Camiguin Express, a coconut milk-based seafood soup. Or the chili crab, grilled tuna belly, buttered fried chicken, lumpiang bangus (shanghai style but with bangus fish meat as filling), pancit canton, steamed vegetables a la provincia (the traditional talong, okra, kangkong and ampalaya strips with our local guinamos or bagoong isda).
Come up to the treehouse and enjoy the cool sea breeze with a fresh fruit shake, ice cold beer or any alcohol of your choice with yummy pizzas (Warning: that green hot sauce is HOT!) or steaks.
Oh, and you can enjoy live music, too. At Lab-as, piano music accompanies sumptuous meals while at the al fresco area, there are acoustic solo performances or bands to liven up your night, depending on which night you go.
One word of advise, though. Come over well before you are on the verge of blinding hunger. This isn't a fast food joint, ya know. Dishes are prepared as they are ordered.

7. Sans Rival Cakes and Pastries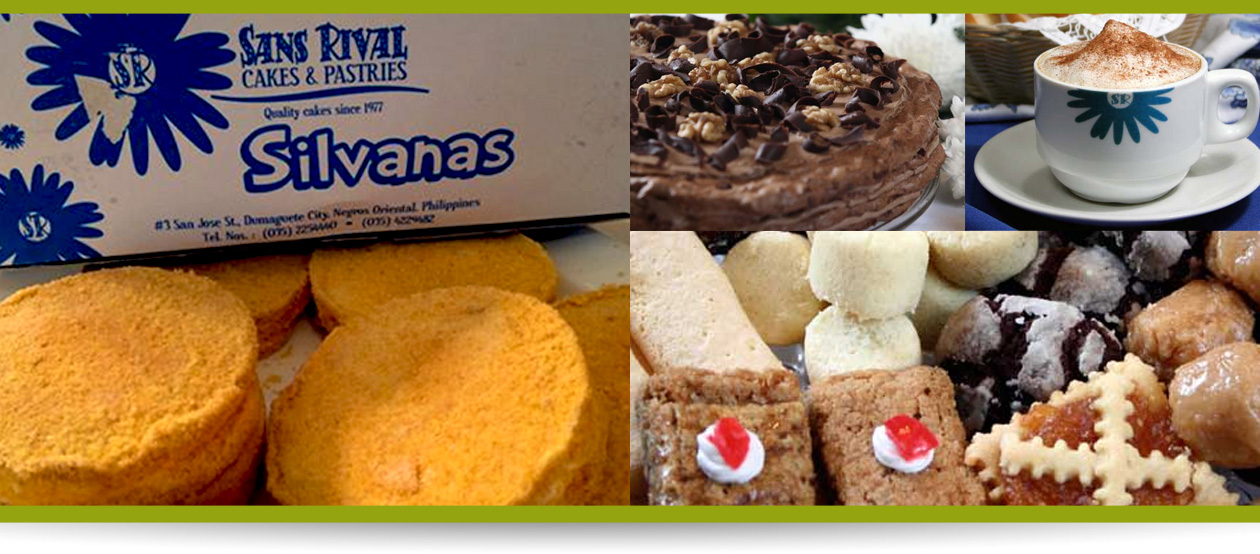 San Jose Street, Dumaguete City
Home of silvanas, Dumaguete's famous pasalubong. Sweet cookie discs in original butter or chocolate flavors. Indulge your sweet tooth with their other yummy cakes and pastries. Cookie Monster (chocolate chiffon cake), Mango Float, Red Velvet, Carrot slice and the Coffee Crumble come to mind, best partnered with coffee or hot tea in several flavors of choice. They also have a variety of breads like ensaymada and walnut-cinnamon roll plus local kakanin such as cassava cake.
The Bistro, a fairly new extension from the good old coffee shop, is open from breakfast up to late dinner. Notable among their menu choices are the mock fillet mignon, ground beef rolled in bacon and roasted, roast pork, barbecue ribs, paella, fish almondine, burgers, sandwiches and pasta dishes.
Getting hungry?
6. Painitan sa Tiangge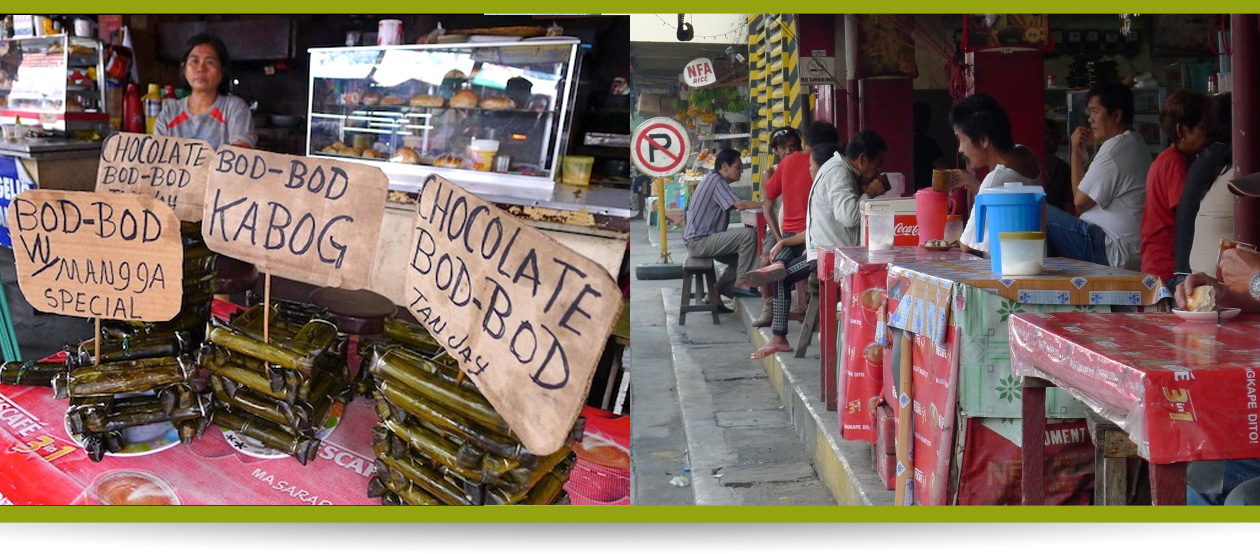 Dumaguete City Local Market
A stretch of small kiosks line up one section of the local market offering yummy snacks or what Dumaguetenos would call painit. The traditional meryenda item is puto and sikwate (sticky rice with native tsokolate), best enjoyed in the early morning or early afternoon. If fresh ripe mangoes are in season, get some and eat them with your painit.
In one of these kiosks, one can also get a bundle or two of either budbud, rice cake cooked with chocolate wrapped in banana leaves, or kabug, something like the budbud but made of bird seed. Perfect pampasalubong.
5. Gabby's Bistro
Rovira Drive, Brgy. Bantayan, Dumaguete City
Happy food at a happy place. Gabby's Bistro at Florentina Homes is one of those cozy European villa-inspired restos where you can stay from breakfast to dinner without having to spend a fortune.
The cuisine is mostly Filipino-Asian-American with a dash of Italian for the presence of pasta and pizza dishes. Commendable are Adobo a la Gabby with your choice of chicken or pork; the oriental fish and shrimp, spicy for a bit of kick; Cheesy Chix rice bowl, chicken strips on rice in béchamel sauce; the Beefy Gravy, tender beef tips and mashed potato drizzled with mushroom gravy.
For dessert? There's the creamy Banana Cream Pie, the sinful Apple Crumble a la Mode or super sinful bowl of chocolate and vanilla ice cream with crumbled Oreo pieces and banana slices aptly named, yep, that's right, Oreo Bananza.
They offer various thirst quenchers, too. Juices, sodas, cocktails and mocktails. Take your pick and have a happy foodie day!
4. Kri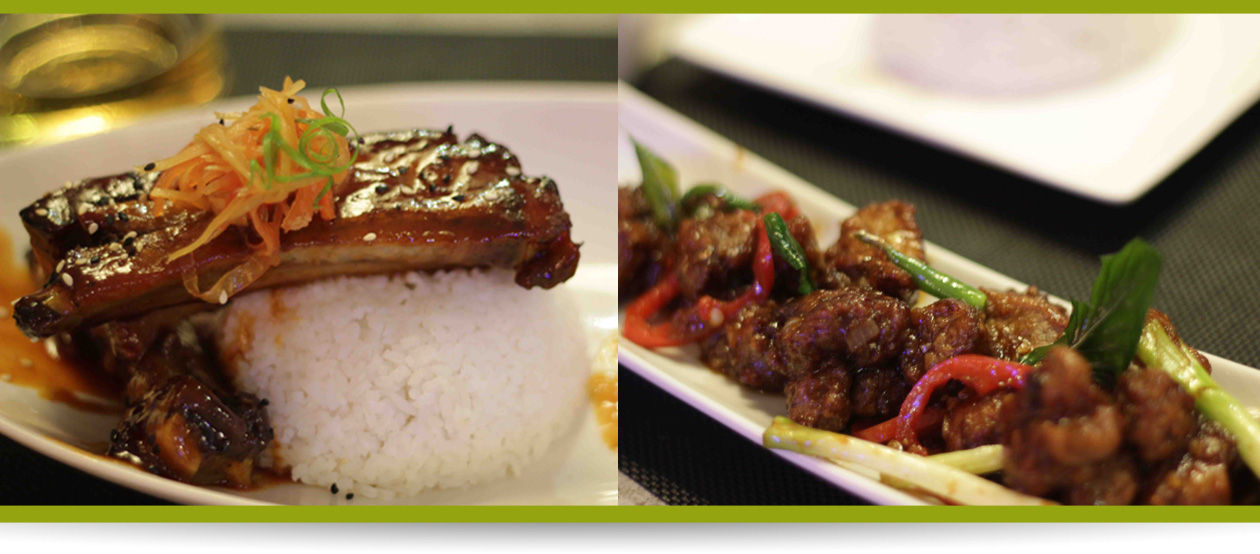 Silliman Avenue, Dumaguete City
Looking for Asian dishes with a modern twist? Come to Kri. For starters, you can have pako salad, served with chopped onions, tomatoes, bell peppers and sliced egg with semi-sweet vinaigrette for a dressing. If you don't care for the taste of onion or pepper, you can politely ask to have them removed.
A vegetarian spring roll can come next, the typical Vietnamese kind in rice paper wrapping, comes with three kinds of dipping sauces. And for the main event, a samurai salmon—grilled salmon slice served with rice and fried rolls. Something to drink? Their ginger lemonade can be served hot or cold. It's refreshing as well as soothing.
If you're not much into Asian fusion, well, there's the usual burgers, sandwiches and omelettes. But really, try the dishes. Hummus with falafel and pita bread, tuna wrapped in nori, bibimbap. It's an Asian gastronomic feast!
3. Jo's Chicken House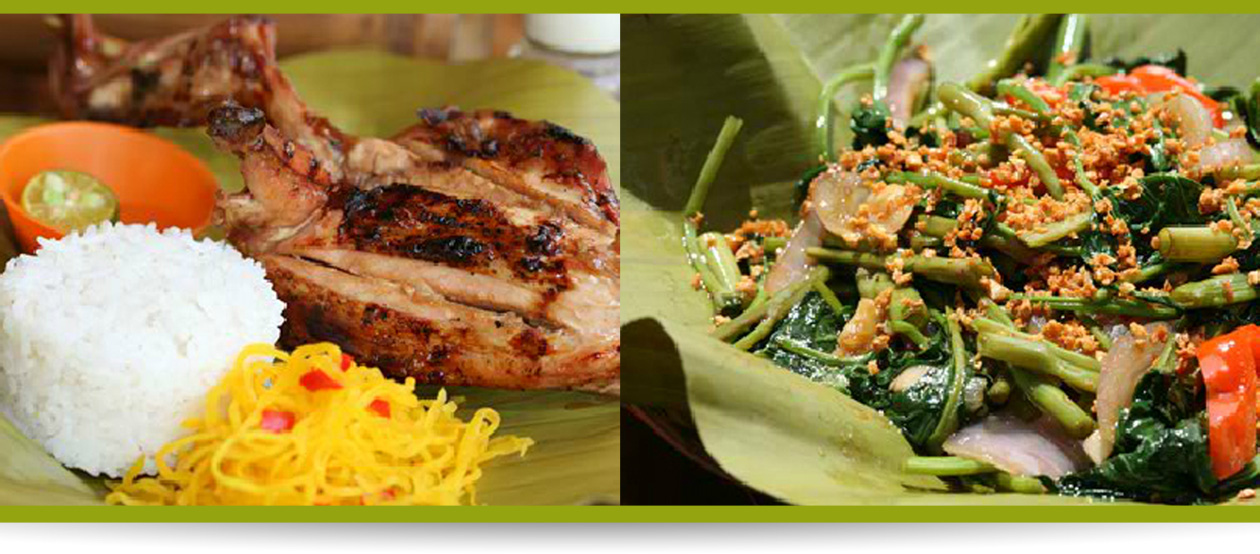 Silliman Ave., Dumaguete City
Most people are acquainted with chicken inasal, yes? We all know Chicken Bacolod and Mang Inasal. For Dumaguetenos, however, there's Chicken Inato. Jo's, specifically.
The grilled chicken is flavored before being hauled to the red hot coals. Pick your fancy: pecho (wing and breast) or paa (thigh and leg). The quarter chicken, on a skewer, is served with rice and achara (pickled papaya). You may also mix his own choice of dip from the condiments on the table. I like mixing them all up—vinegar, a little soy sauce, fish sauce, calamansi and the clincher, siling labuyo.
There are other dishes on the menu to choose from. Fish, vegetable, other meat dishes or noodles to complement and complete your meal. If fresh buko juice is available, go for it.
Oh, and when you're at Jo's, it's best to eat with your hands. And uhm, get ready to order another serving of rice. Promise, you'll need it.

2. Sta. Teresa Restaurant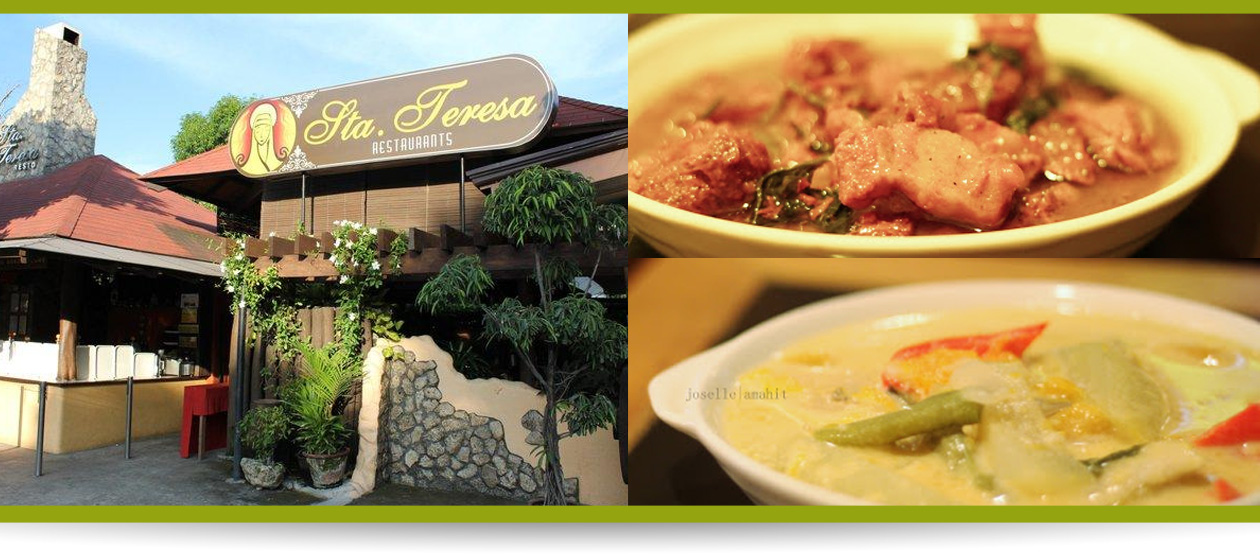 Dr V Locsin Street, Dumaguete City
On a budget but looking for delectable meals? Sta. Teresa Restaurant offers home-style cooking in generous servings, one can actually share dishes with a companion with each order. Theirs is the classic turo-turo style of menu presentation but think classy carinderia especially with the interior decors, lighting and furnishings.
Anyway, on with the food. Point to the dish on left (pork binagoongan), point to the dish on the right (ginataang langka),  point to the front (pork with calamansi, croquettas, chopsuey or adobong talong), get a serving of rice and voila! Fiesta!
Short orders are also on the menu for snacks – pasta, noodles, sandwiches, as well as vegetable salads for the weight conscious.
Ahhh… Just like mom's cooking!
1. Mifune Japanese Restaurant and Bar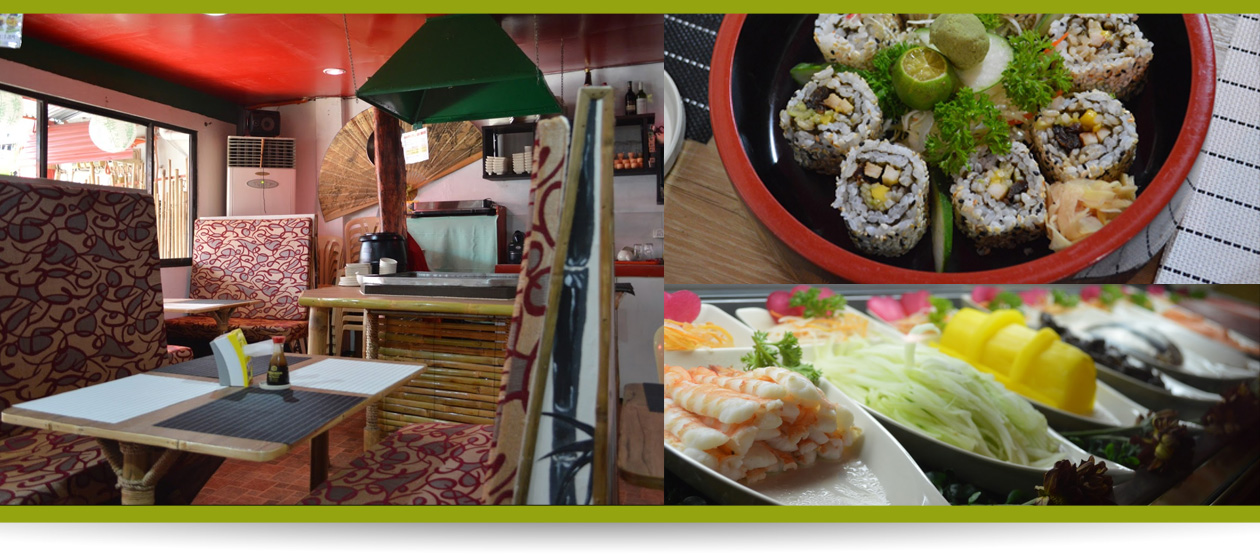 Santa Catalina Street, Dumaguete City
Tuesdays and Saturday nights are best at Mifune. Why? It's eat all you can buffet! Gorge on gyoza, tempura, assorted sushi, tuna and salmon sashimi, sukiyaki or miso soup.
Should the buffet prove to be too much, one can always go a la carte. Their ramen is love! So are the bento boxes. While you're at it, try a shot or two of sake. Oishii!
The key to conquering the food scene in Dumaguete is to just go where your nose (or stomach, as is the case with some) leads you. Although admittedly, there may be stops that will be less than par for one's taste, still, that is part of the experience. Best is to go food hopping from one resto to another. Make sure, then, that when you step out of your hotel, your storage is close to empty. Do a lot of walking so come next mealtime, you are ready.
Finally, before you embark on a vacation to Dumaguete, best to get a new wardrobe ready for when you come back. Get some clothes about a size bigger.
Daghang salamat!
Have you been to Dumaguete? Share some protips in the Comments Section.