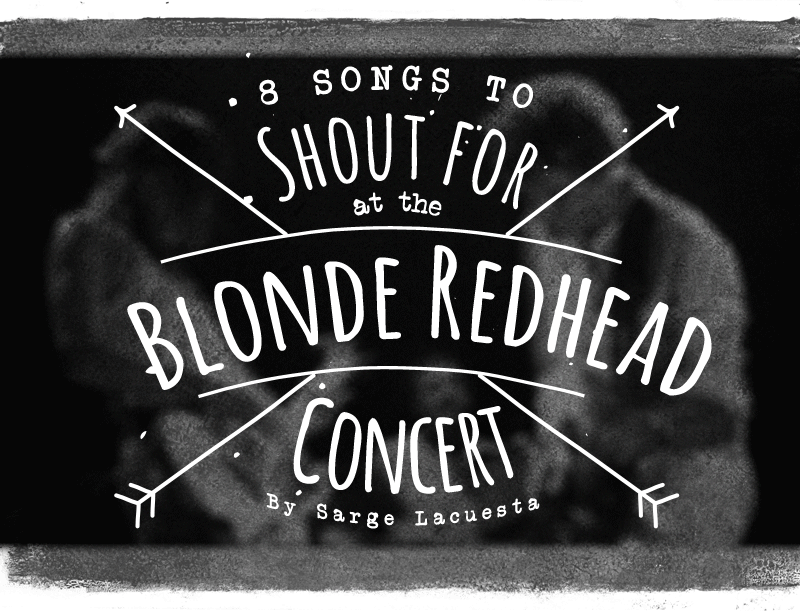 Blonde Redhead is a trio composed of a pair of Italian twins and a Japanese singer who are playing in a two-day gig with the incredible and elusive Cat Power in Manila on the 16th and 17th of June.
When you do the math, every threesome is an odd lot, but my poor forlorn favorite trio—they've been simplified as shoegazers, pigeonholed as post punks, even mislabeled on playlists as "Sonic Youth." Blonde Redhead, the band whose name, when you think about it, connotes someone who is too often mistaken to be the sassy one at the party, is none of these.
They have turned out an incredible swath of music over the past two decades and no, this is not the opinion of some bearded, bespectacled vinyl-loving whiner (full disclosure, though: my son, soft-boned and still starry-eyed, calls my two-day growth a beard, and I am loath to discourage him and take away his innocence). This is the voice of a fanatic—that voice you hear above the din during the lull between songs at a concert shouting "I love you!"At smaller venues, the band will note the disturbance, or if the fan is lucky, shout something back—a quip or a sarcastic remark, but it's never ever "I love you, too."But fans know that every song is a love song, and all they really need is to hear it sung to them in person.

Most of the David Sylvian fans I know are completists, and almost all of them are complete snobs. But when Sylvian sings on a Blonde Redhead song, replacing Amadeo Pace's high-throated vocals with his melodramatic baritone (Pace's version is one full octave higher), he is suddenly more pop, utterly more melodic and ironically more honest than he's ever been.

It takes a slow song to allow listeners to fully enjoy Blonde Redhead's songwriting and arranging skills, and in this song they come languorously and decadently—from Kazu Makino's voice, to a flawlessly executed conversation between a highly melodic bass and a lazily strummed guitar that becomes the song's wordless central argument.

Simone Pace's architectural drum composition sits squarely in the foreground of this song, recorded when they still weren't using synthesizers. What is she saying? Who knows? Who cares?

The words "I love you less, now that I know you" may sound like a product of a lyric factory, and the lush synth backing may give the arrangement a pre-programmed feel, but Kazu's magnificently layered vocals—squeaking out of tune at the most tender passages—gives this song all the hurt it needs to be human.

In the early 2000's singer Kazu Makino met a horse-riding accident that required her to undergo massive facial reconstruction surgery and inspired her to write this song, whose bouncy, urgent instrumental arrangement suggests a swift, productive recovery—and a complicated relationship with the subject matter.

Blonde Redhead is not a young band, but the brightness and earnestness of their later albums, particularly "23" and "Penny Sparkle", carry a mood of rediscovery and fun.

"Remember when we found misery, we watched her, watched her spread her wings—"the title song from the band's sixth studio album(2004) gathers piano, guitars, drums and strings to create an atmosphere that suspended the entire collection in a dreamy, contemplative mood. For many, this is their breakthrough album—it is certainly their most well-produced one.

Raw but structured, minimalist but complex, childlike, strident, and irresistible, "In Particular"should be heard by anyone who has ever surrendered a tender moment in their lives to music. "My love will sing for you," Kazu sings toward the end, and you—who by the end of the song should have already become an instant fanatic—know this to be true.