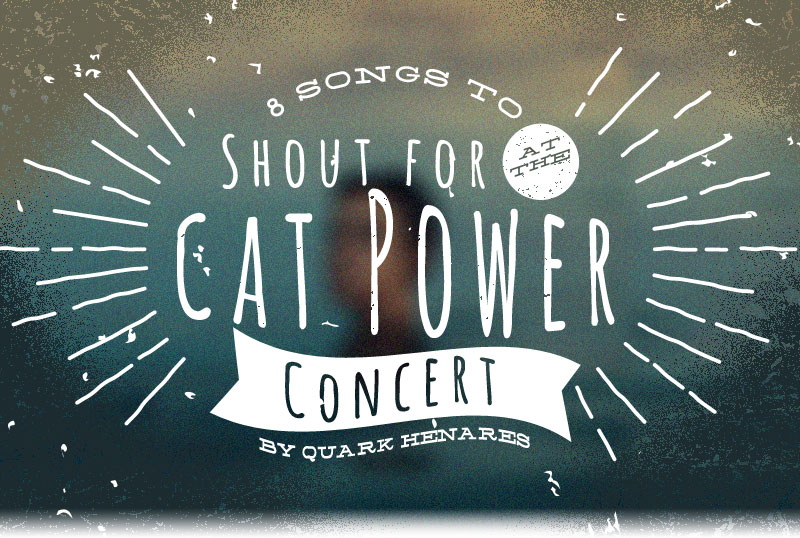 Chan Marshall, known to most people as Cat Power, is an unpredictable and elusive presence. Most critics say she is one of the true musical geniuses of her time, while others dismiss her as a crazy recluse. Whatever. No matter what, you know you're in for a show.
The first time I saw Chan Marshall play live she was an absolute mess. A nervous, fidgety twenty-something learning to deal with fame, she came onstage with her acoustic guitar and face completely covered with hair,hardly able to finish a song. She'd stop in the middle, talk to herself, angry that she didn't get things right. The next time I saw her she was in her thirties, touring in support of her most ambitious album, The Greatest. She was backed by the Memphis Blues Band, freewheeling across the stage looking like she was exactly where she needed to be. Then I saw her two years ago, in support of her last album Sun. She looked like crap, nervously twitching as she sang, unable to make coherent sentences. Finally, I saw her a few months ago. She seemed at peace with what she had become: stopping whenever she felt like it, smoking while playing guitar, unafraid of burning the place down. I envy you and wish I could watch the latest version of herself with all of you on the 16th.
On my Last.fm profile it says that Cat Power is among the ten artists I listen to the most, and yet I still feel that I don't have a good grasp of her music. I'm hoping she plays these eight songs during her set; but really, the best thing would be to stand back and just enjoy the ride.

A perfect introduction to Cat Power's music. The carrier single from her last album "Sun" is catchy and upbeat, but also filled with that darkness and longing Marshall is known for. "What are we doing?" Marshall asks, not giving you a chance to answer: "we are sitting on a ruin."

Thanks to the movie "Juno," Cat Power's most famous song ends up being a cover of a '50s Phil Phillips classic. Put the two side by side, however, and you will find that Cat Power really makes this song hers; turning the original doo wop love song into a solemn prayer.

From 1998's "Moon Pix", the album that put Cat Power on almost every magazine's Top Ten List. The song, an unapologetic ramble, is supposedly about African kids being forced to look for diamonds, but I've found it better to not try to decipher the lyrics. Also—THE VIDEO! In your face, feminist and awkward.When you see Cat Power's 1998 look you will find it impossible not to fall in love with her.

This song is quintessential Cat Power: rambling, no real sense of structure, poetic, moody. Producer Matt Voigt and Chan Marshall make the brilliant decision of not putting any gloss on the production, so much so that listening to it feels like hearing a song that's just been completed. When she finally sings "metal heart, you're not hiding; metal heart, you're not worth a thing" at the very end of the song it feels like a mantra that she's earned. This song means many different things to many different people, and to each and every one of them that meaning feels like the truth.
Another Cat Power hit single, and one that gets me very sentimental for the NU107 days. Her sixth album "You Are Free" marks a new period in Cat Power's career, one where she leaves her lo-fi sound behind for a more produced, massive feel (with guest appearances by rock greats like Eddie Vedder and Dave Grohl). "Free" is the perfect transition: starting out as a bunch of acoustic guitars and building up to an in-your-face, rock-out ending. This song is as close to an anthem as Chan will ever get: powerful, raw, and unafraid.
Cat Power's first real "single" from her Matador Records debut "What Would The Community Think", complete with a music video and a Sonic Youth member producing! Years later she confesses that this song is about having to live with an abortion, which just adds a whole 'nother world of pain to this track (also, TMI).

After a string of gritty indiefolk albums Cat Power releases "The Greatest", a lushly-produced record filled with soulful back-up vocals, a horn section, some strings and a piano for good measure. This song,both the title and opening track, is her surrendering to fate and making one last-ditch effort to go beyond. In the big scheme of things, she achieves the latter.

Hands down my favorite Cat Power song, from "You Are Free." In it, Marshall repeats the stanza "I never mean to be the needle that broke your back. You were here, you were here, and you where here now don't look back" until it almost becomes a chant. When she arrives at the chorus, which is simply "HEY HEYHEY," you feel this sense of liberation and empowerment, so much so that you won't be able to stop yourself from pounding your chest and singing along.
Watch Cat Power at Hostess Club Manila on June 17 at the Samsung Hall in SM Aura. Get the details here.