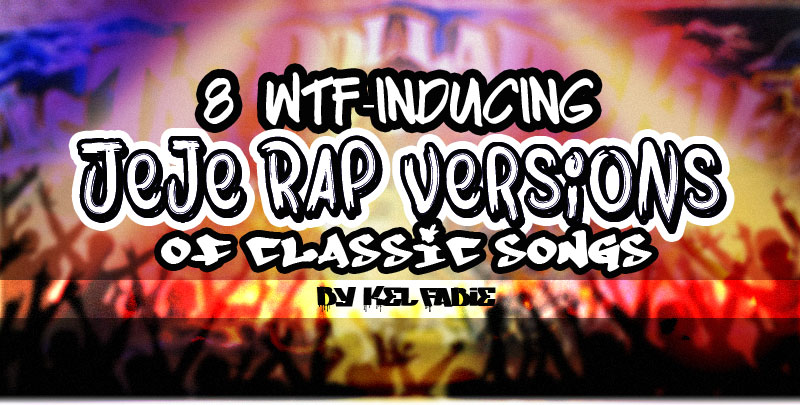 It takes a certain kind of masochism to plumb through the depths of jeje rap just to put together a list like this, especially when you realize that Filipino rap, as a whole, is actually very much alive and well. Why ignore the Francis Magalona's and the Abra's for this dreck, right? That's pretty much like going to a restaurant and deliberately ordering the worst item on the menu while insulting the waiter so much you can almost guarantee you're getting something a little extra in your food when it's served.
When you trudge through the worst of the worst, there are just some rap versions of songs that stand out as so amazingly bad that you don't know if you can ever appreciate the original song as much after hearing it jejemonized. For example, more than a few old married couples can no longer look fondly on the day they danced to "Evergreen" by Barbra Streisand for their wedding, all thanks to Salbakuta's "S2pid Luv."
And. Why. Are. There. So. Many. Versions. Of. "Dance With My Father?!?"
Here are 8 more examples of Jeje Rap that you have only yourself to blame if you watched after this introduction.


The original "So Sick" by Ne-Yo allowed him to break out into the public's consciousness in 2006. Since then, he has sold millions of albums and become a household name in R&B.
To be fair, you will hear far worse examples and this song isn't really a rap song in the strictest sense. Mike Kosa's take is almost tolerable, if it weren't for the fact that his riff on the chorus really just doesn't work, and as a "Tagalog version," very little of the original song's essence is actually left, aside from the melody.

Someone's clearly pining for his ex. Whoever made this video decided to stream endless pictures of some girl who probably never even consented to be on the video, proving that true love knows no boundaries – nor restraining orders.
The sTiCkY cApS on the video's description doesn't help its case much, either. Consider this item as just me easing you into the notion of Jeje Rap, because it gets worse in a bit. Much worse.



Well, that escalated quickly. It's pretty obvious whoever wrote Spk20's rap didn't bother counting syllables and just forced him to rap off-beat as fast as he humanly could just to make the words fit. Not everyone can be a Gloc 9, obviously.
And of course, as we generally expect from rap songs whether Jeje or otherwise, the rap verses have next to nothing to do with the song's choruses. Saying "regalo" once or twice during the course of the song is not even remotely enough.

What best represents "The Gift?" Oh, I know! Pictures of Naruto and Hinata! I'm sure everyone would totally get the connection.



"You must not know 'bout me, you must not know 'bout me," Pinklove sings. I wish I didn't, all right. I don't quite know if she was rapping so much as she was sheepishly mumbling her rhymes because she knows they patently suck.

The video opens with a tribute to Pinklove's friends, the "Breastfriends." With a name as classy-sounding as that, and pictures of Pinklove looking as gangsta as she possibly can in what are most likely selfies, we have a winner of a video right here! Nothing says "gangsta" quite like taking a metric crapton of embarrassing-looking selfies, right?


Probably the best-sounding chorus you will get from this list, Gangguro's rap remix of the Stephen Bishop classic still successfully murders the song with unforgettable lines like "all the riches in the world, to you 'di a-amount/ ang halaga mo girl, 'yan hindi ma-ka-count," and "me and you diba, perfect for each other/ for you my love is always flowing na parang river," how could this song possibly go wrong?

Well, the video goes wrong by misattributing the song to Gagong Rapper instead of Gangguro. With a name like "Gagong Rapper," something tells me that he has more dignity than to accept credit for this song.


Speaking of Gagong Rapper, here's a song that he officially did. In typical Jeje Rap fashion, it pretty much makes next to no sense. For a language as rich as Filipino, you would think they'd have better rhyme schemes.

It's just a lyric video. A very bad one, at that. "You're emotional tools?!?" No, Gagong Rapper is not an emotional tool, okay? A tool, maybe, but certainly not an emotional one!



It does sound like he kept the original Lara Fabian chorus and rapped over the verses. And the minute you not only rhymed "kawalan" with "nawalan" and need to use "lagusan" just so you could rhyme something with "lubusan," you're clearly not the paragon of lyrical expertise.

Finally, an actual video from the actual artist performing his own song! Way to ruin your street cred by showing yourself reading off your lyrics instead of at least pretending you're freestyling, though.



"Kalimutan ang nakaraan! Magsimula sa bagong kinabukasan" Ezekiello's rap is actually pretty decent, although it's still your standard Jeje Rap cadence. And then the chorus hits, and you can't help but burst into tears of joy. That voice will haunt you for all eternity. "Nana" never sounded more appropriate as someone's name as it did here, because I'd rather gargle pus than be subjected to hearing Nana sing again.

Are those two people in the inset pictures Ezekiello and Nana? Audio-visual lock fail.



Based on his pictures in the video alone, it's easy to guess that Jharel is your typical jeje rapper, who used to be a bad boy, but found the one woman who gave him a "tsansa sa panibagong buhay/pinabait mo ako at pinutol ang aking sungay." Such lyrical genius!
The high point of this song has to be the chorus, where you begin to think that Nana in #2 wasn't so bad after all, in contrast. Jharel is so poor and lonely that he apparently couldn't afford an actual female singer, nor could he find a single female friend willing to sing the chorus for him, resulting in this unintentional hilarity.
It's the extraneous "h" in your name, Jharel. That's the reason why you don't have any friends.

You don't even need to watch the video at all to laugh your head off. Just listen to the song, and revel in the masterpiece that is Jharel singing falsetto during the chorus.

OMG did you watch all the videos? Tell us about how miserable you feel in the Comments Section.