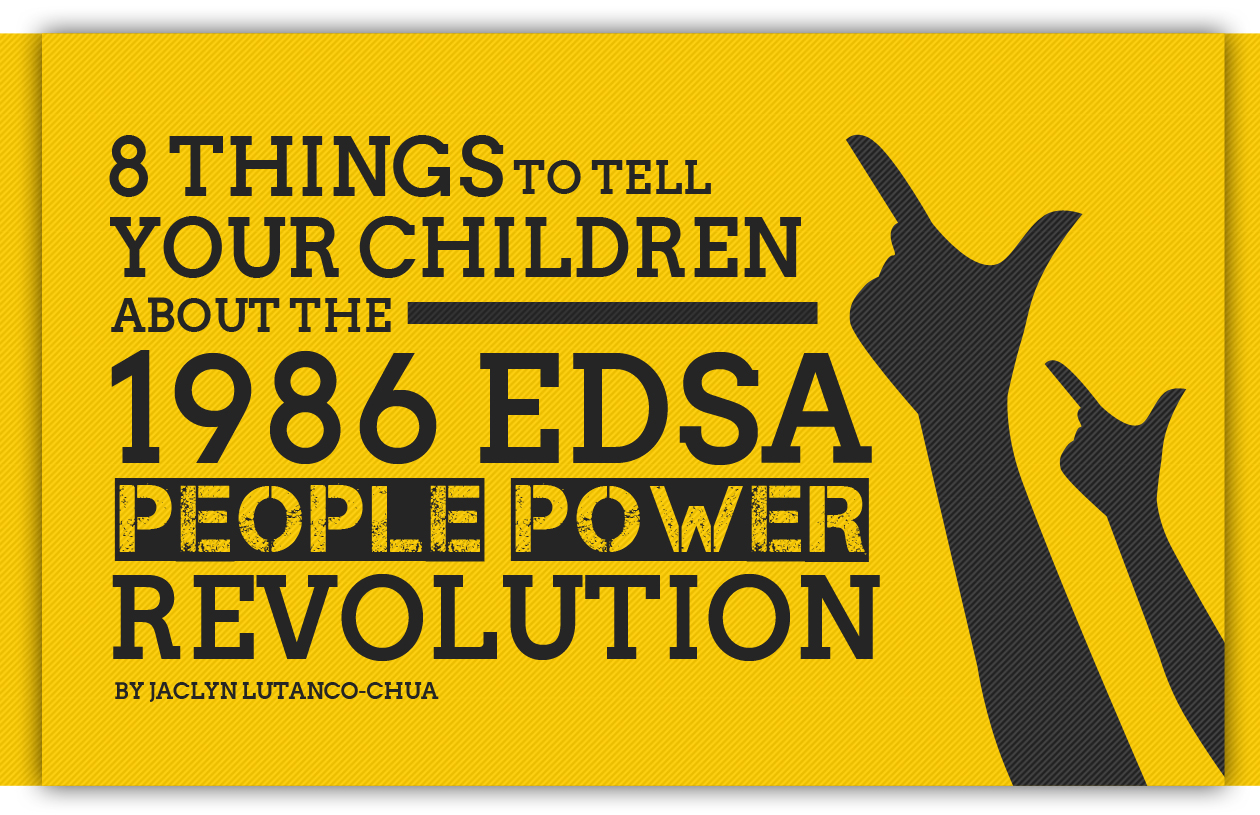 our kids may be excited over the upcoming school holiday this February 25, but odds are they are too young to know why people are celebrating the People Power anniversary in the first place. Relate this historic moment to them in 8 ways:

8. Every Feb. 25, we celebrate freedom from a 21-year dictatorship.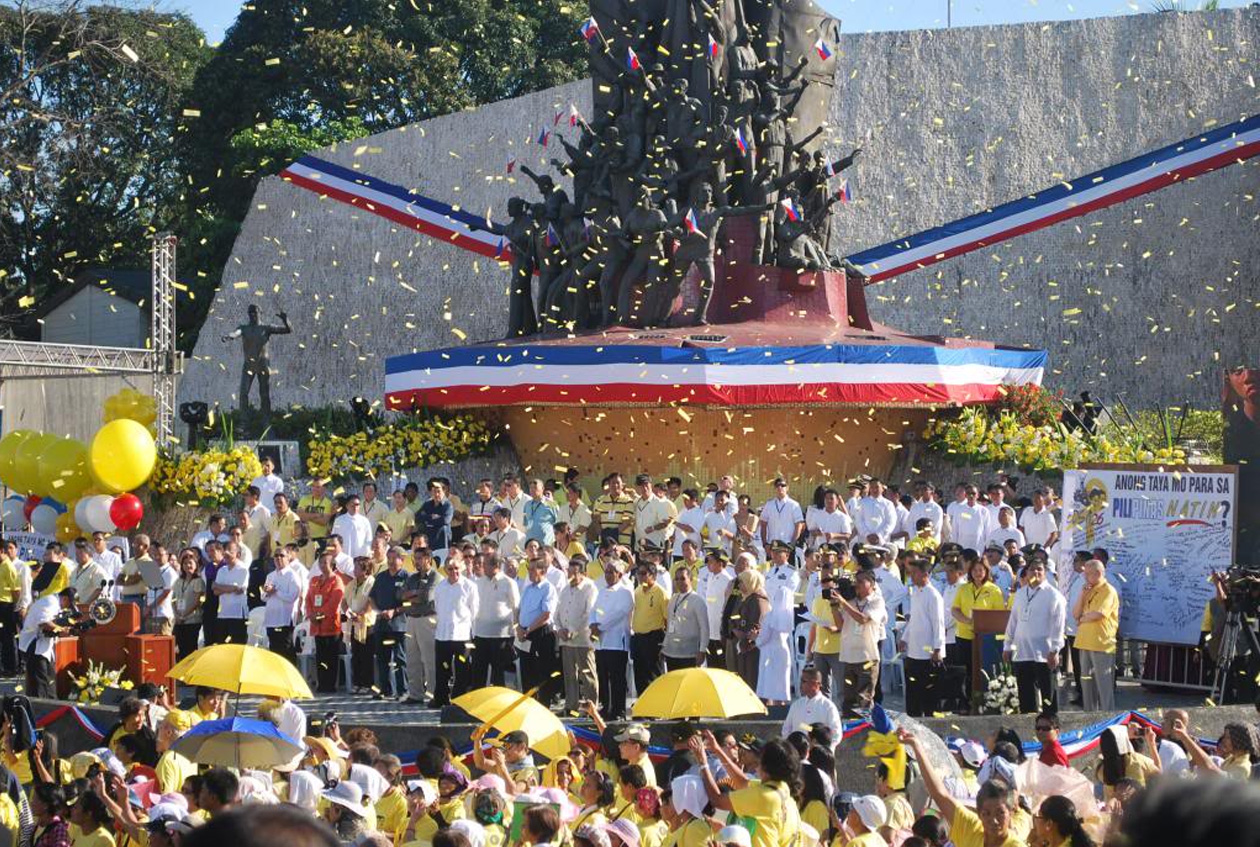 From 1965 to 1986, Ferdinand Marcos ruled the country in a manner that was corrupt, despotic, authoritarian, and repressive. In 1983, Marcos was believed to have ordered the assassination of his most vocal opponent, Benigno Aquino Jr.
This event set in motion a series of civil disobedience campaigns that eventually culminated in millions of people gathering in protest at Epifanio de los Santos Avenue (EDSA). Marcos, his family, and some close aides eventually fled to Hawaii.

7. The anniversary is known by other names.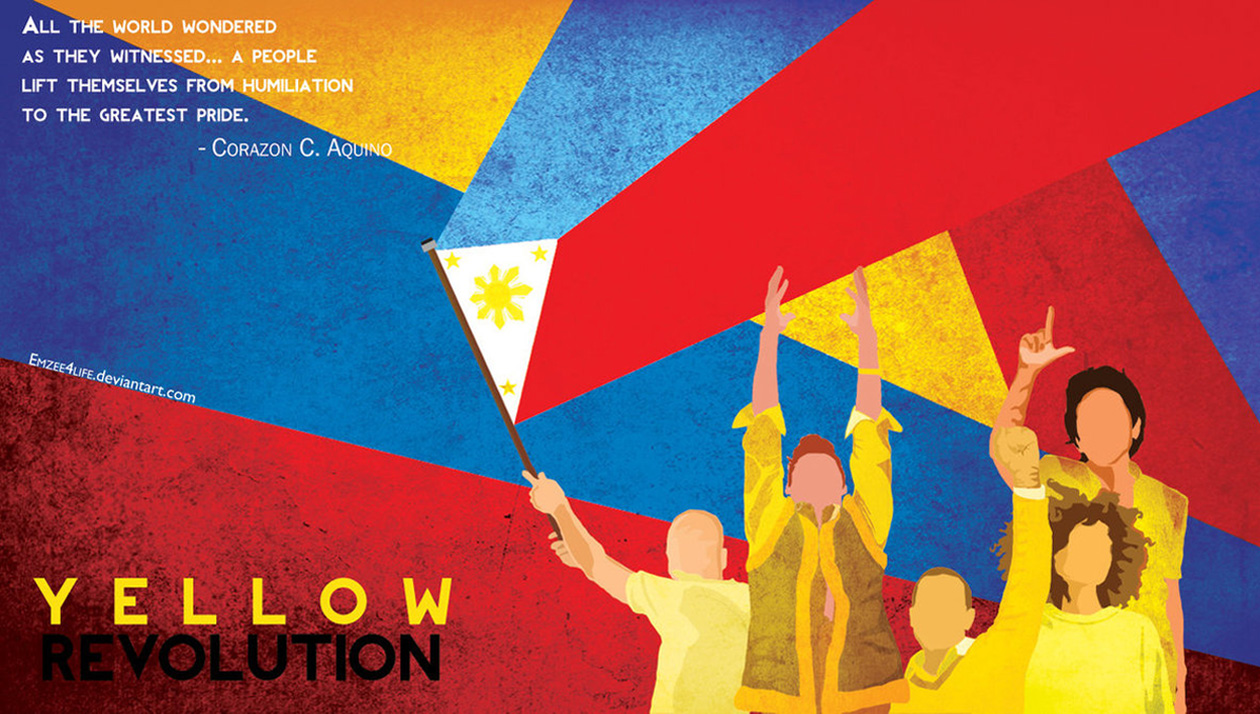 While the common name is the "People Power Revolution," it has also been called the "EDSA Revolution," the "Yellow Revolution," and the "1986 Philippine Revolution."
As a side note, there was another mass gathering in EDSA in January 2001, this time ousting then-President Joseph Estrada. The media commonly refers to this event as EDSA 2 ("EDSA Dos").
In retaliation, supporters of President Estrada took to the same highway a few months later in May. This is now referred to as EDSA 3 or "EDSA Tres."
Still, in the annals of history, nothing will beat the size, scope, and impact of the 1986 EDSA Revolution.

6. The revolution spanned four days.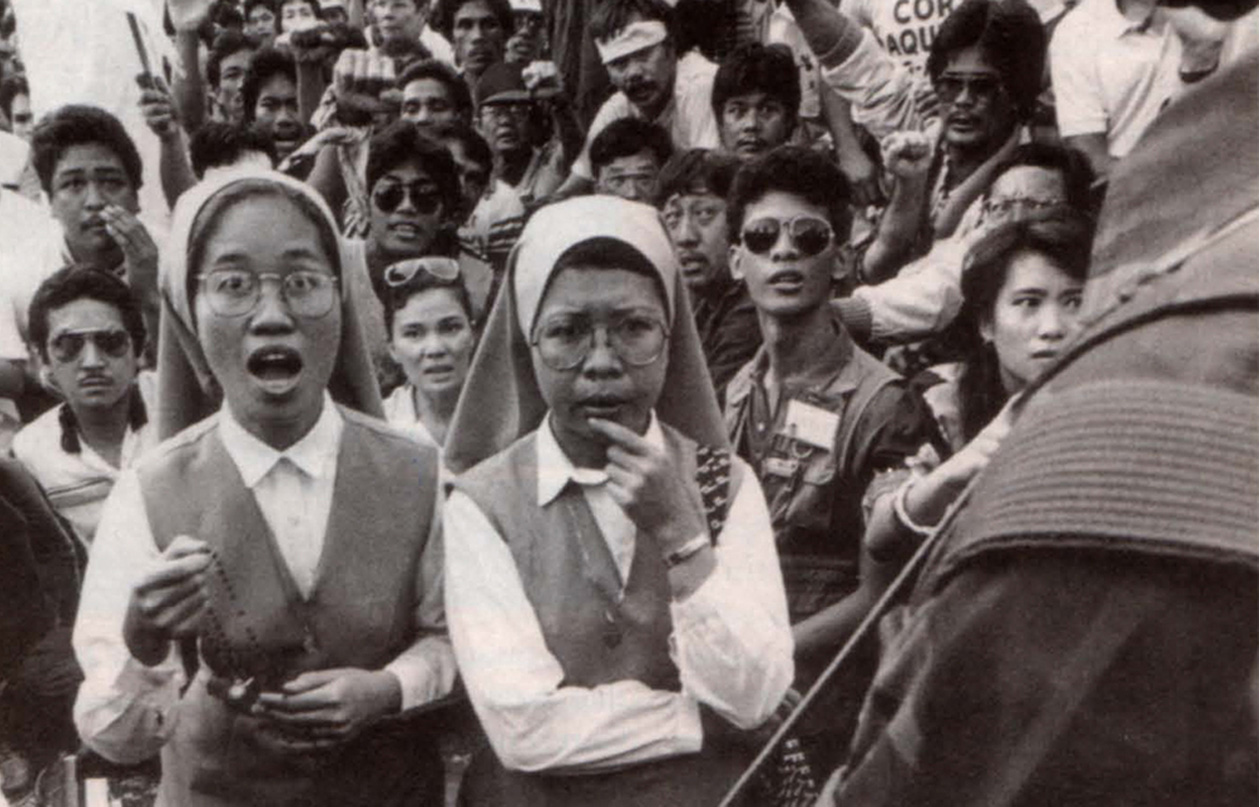 The gathering at EDSA started on the evening of February 22. Two of Marcos' top lieutenants in the military, Fidel Ramos and Juan Ponce Enrile, along with their respective units, were defecting, and were afraid for their lives. Late at night, Manila Archbishop Jaime Cardinal Sin appealed over the radio for people to go to EDSA, specifically to the part between Camps Crame and Aguinaldo, to give support to the soldiers. The first people to arrive at dawn the next day were priests and nuns.
At the height of the revolution, an estimated 3 million people filled up the portions of EDSA from Ortigas Avenue to Cubao.
By February 25, people were also gathering on Mendiola in Manila and were on the verge of storming Malacañang Palace, where Marcos, his family, and a few allies were holed up. Eventually, after negotiations, Marcos and his brood departed for exile in the United States.

5. It was a revolution that made history all around the world.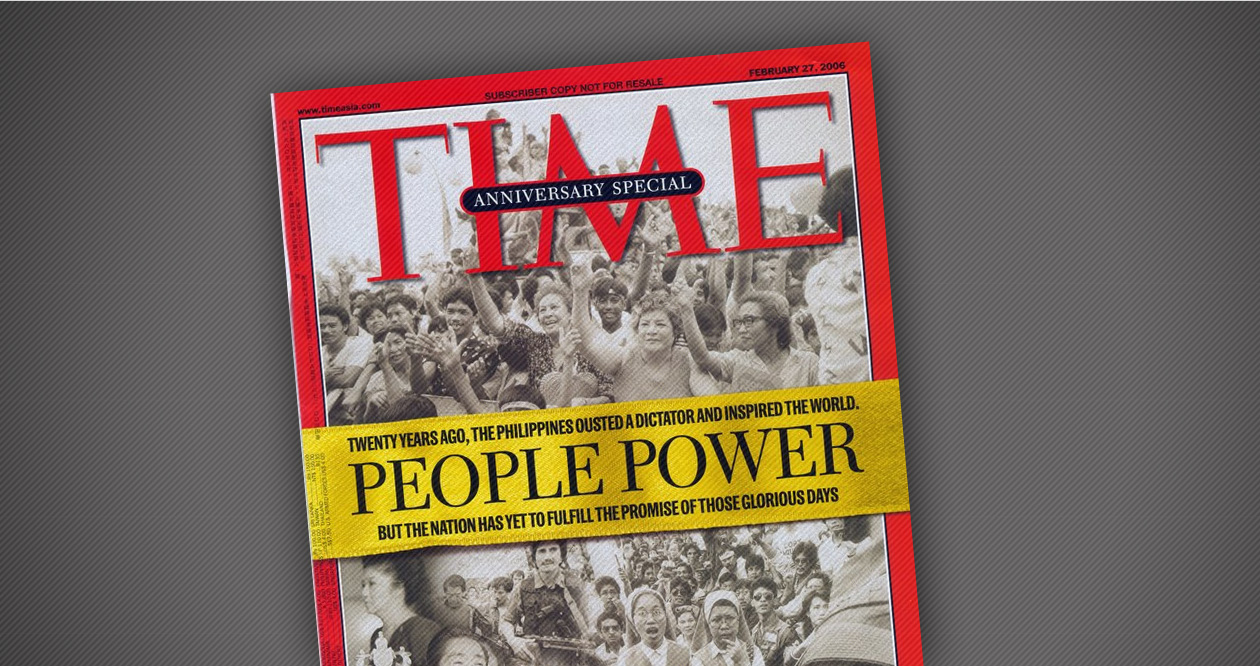 Ours was the first nonviolent, bloodless revolution that ever took place. Despite the presence of tank-riding soldiers from opposing sides, not a single shot was fired.

4. The color of the revolution was yellow.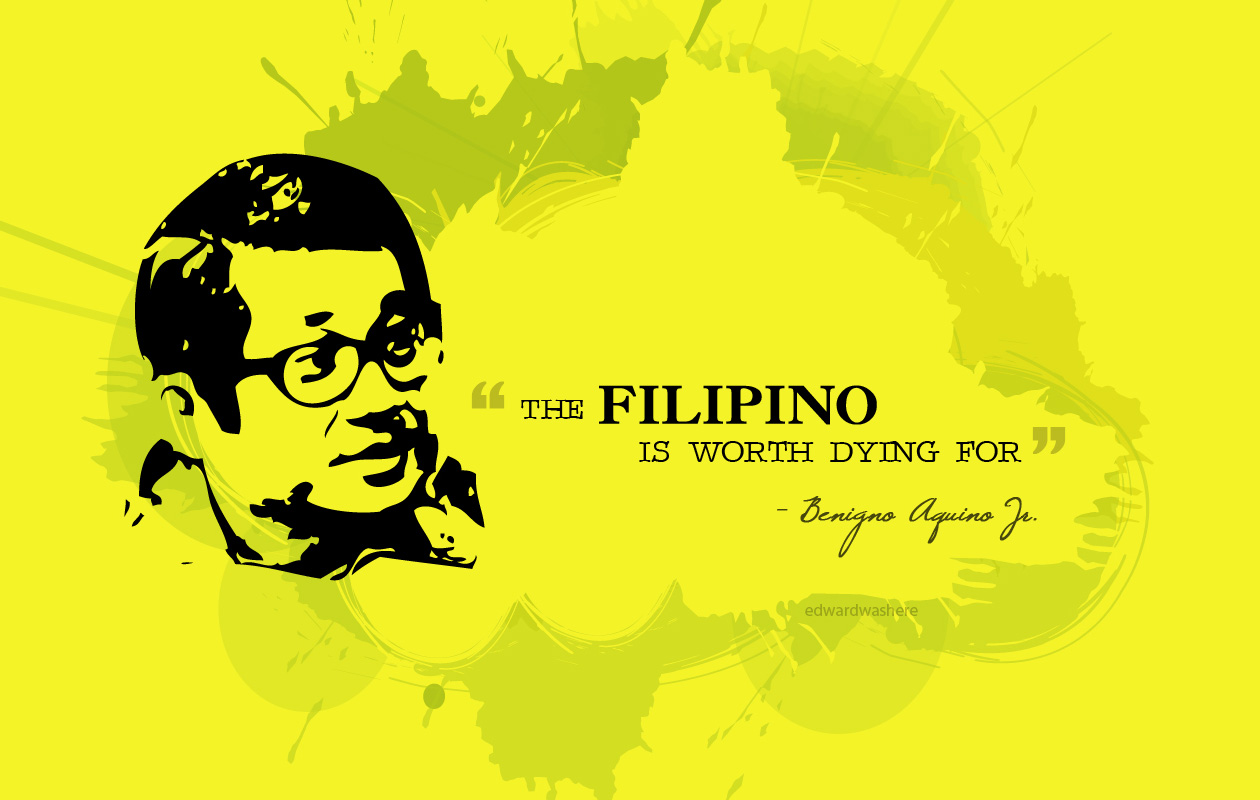 Yellow has become the de facto color of the Aquino family, and here's why: in August of 1983, opposition leader Ninoy Aquino (Pnoy's father) was coming back home to the Philippines after being sent by Marcos into exile. Marcos did not want him to come back, but Ninoy insisted, despite threats against his life.
Ninoy's supporters here in Manila took their cue from the song "Tie a Yellow Ribbon 'Round the Old Oak Tree" and proceeded to tie yellow ribbons to trees and posts around the Manila International Airport. After Ninoy was shot as he stepped off the plane's tarmac, more people started wearing or waving yellow items to show their solidarity with the Aquino family.
Whenever there would be demonstrations in Makati, the offices there would rip apart phone directories (which used yellow-colored pages) and make confetti.

3. Who's who.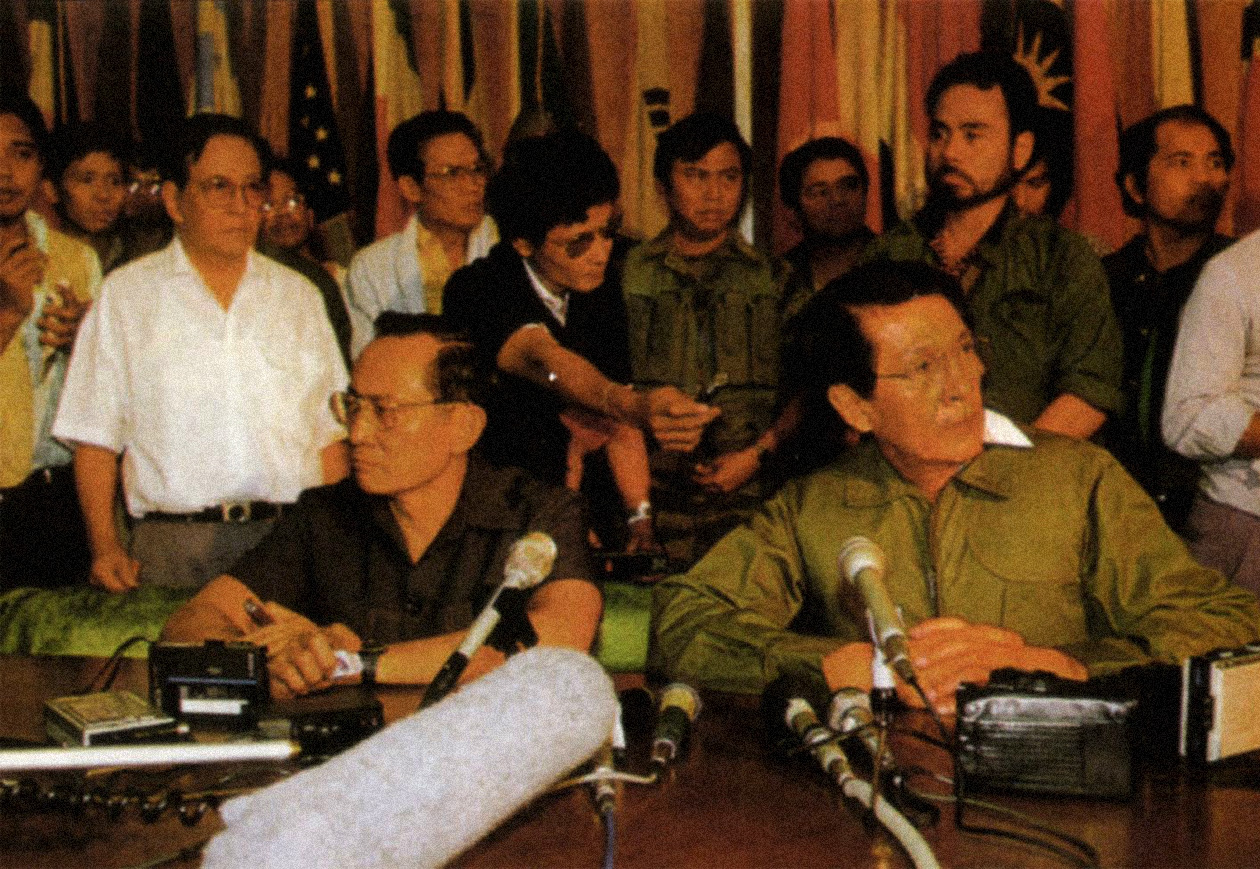 Key participants in the EDSA Revolution included:
Fidel Ramos, Marcos' AFP Vice-Chief of Staff in 1982. He went on to become president of the country in 1992. He is also Marcos' second cousin.
Juan Ponce Enrile, who was Marcos' Defense Minister. He is currently our Senate President (currently embroiled in the PDAF scam).
Gringo Honasan, Enrile's aide, who later led a series of coup attempts against the administration of Corazon Aquino. He was granted amnesty by President Fidel Ramos (who became president after Aquino's term) and Honasan served as a senator for a few terms.
Manila Archbishop Jaime Cardinal Sin, who passed away in 2005 but not without leaving a mark as a force to be reckoned with in Philippine politics.
Ironically, Ninoy's widow Cory Aquino was never at EDSA during the entire revolution. She was in Cebu, staging her own rallies.

8 It almost felt more like a party than a revolution.
Whole families trooped to EDSA and camped out there. They brought food and shared them with the soldiers who were sent by Marcos. Performers like the APO Hiking Society staged mini-concerts and popularized songs like "Bayan Ko," "Handog ng Pilipino sa Mundo," and "Magkaisa."

1. Our EDSA Revolution inspired other countries to undertake their own political reforms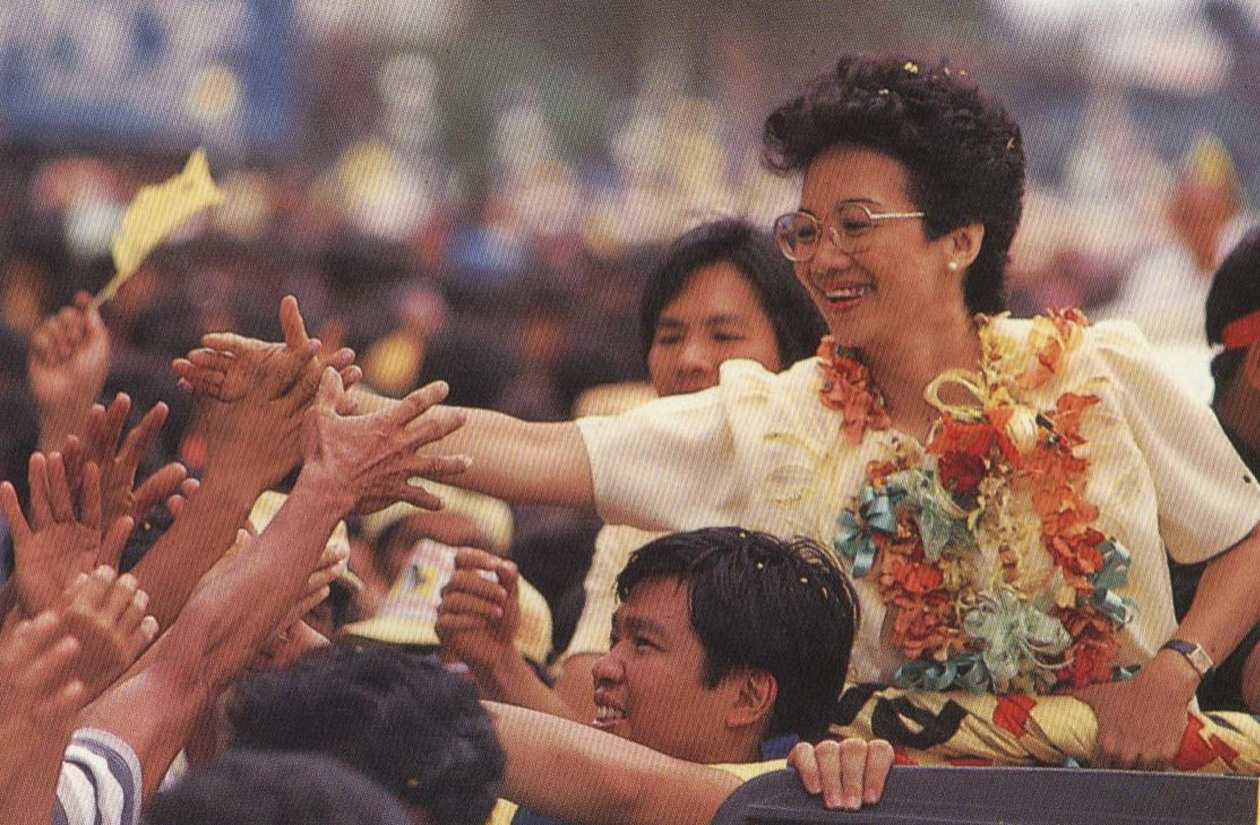 Other Asian nations like Taiwan and South Korea were also under dictatorships then. But when Marcos was successfully ousted by a civilian show of force, the two countries' leaders decided to speed up and implement the reforms they promised their opponents, lest the same thing happen to them.
What other information should be shared with children about the People Power Revolution? List them down in the Comments Section.